Our ethos has always been

Helping everyone, everywhere to become healthier

With that in mind, to make Fitain as accessible as possible, we need to keep the costs low. It doesn't get much lower than FREE!
Keeping Fitain free
This means that you can access our extensive exercise library, find, create and complete plans at absolutely no cost. The core functionality of Fitain is FREE and always will be.
For fitness professionals, it means they can gain new clients, train existing clients, and complete their own fitness journey at no cost too. That means: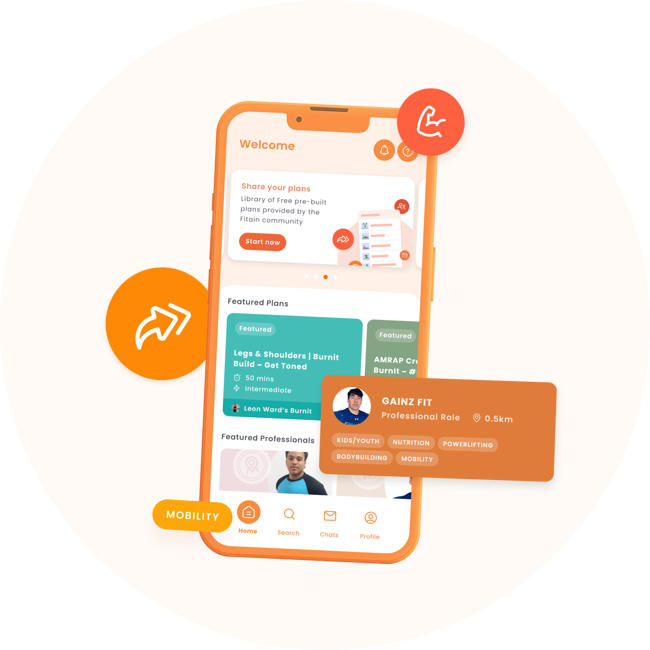 Total Transparency
But let's be realistic, hosting, maintaining and developing new features on the Fitain app costs us money. We are still a business at the end of the day. Therefore, to grow and deliver expert fitness resources to more people, we must somehow generate income.
In an effort to be fair and maintain the original Fitain experience as best we can, we've opted to use both traditional and modern funding methods.
So, to be totally transparent, here is how we fund the platform:
You can choose to become a supporter for £4.99 a month. This means you can browse the platform completely advert-free. You'll also be able to access more of your history and unlock new features.
Individuals and companies can pay to replace the video on the exercise. Once completed, you'll have a list of the sponsors in your history so it's non-intrusive. A percentage of this goes to the community, and also to the owner of that exercise.
Everyone can help fund and also own a part of Fitain. We have set up a unique format for delivering this while also giving back to our investors and letting them reap the rewards as Fitain grows.
Giving back to the Fitain community
Because Fitain is a community-driven platform, and all of the free plans in the public library are created by Fitain-registered fitness professionals, we decided it was only fair to give something back to them.
We give up to 20% of the income we receive (after transaction fees and tax) to Fitain members who have provided free plans to the community. The amount you get depends on how many people complete your plans. The more people from the community that complete the plans you've submitted, the greater the percentage of the pot you'll receive.
We have certain guidelines in place to prevent people from abusing the system, but feel free to promote your plans in any way you like.
*All payments are made on the last day of each month in Ethereum.
Own part of Fitain
Want to help us grow? Be part of something that's never been done before and own a part of Fitain.
Funding in this way enables us to build investment to expand the app's functionality and improve it for everyone involved. It's also a chance for us to say thank you by offering you something in return.
To own a part of Fitain, we are giving our users the chance to buy an NFT of an exercise in our library.
Think of it as a contract that says you own something - in this case, an exercise in our library. So, you could literally own a bench press.
All our exercise NFTs will be available on the OpenSea platform, a trusted public marketplace.
Once you own an exercise NFT, you will be paid out 10% of the sponsorship for that exercise (in Cryptocurrency) as a thank you. You can also re-sell the NFT on (using the OpenSea marketplace) at whatever price you like.
We will be releasing the exercise NFTs in small batches, so keep your eyes open on our Twitter, Medium and Instagram accounts.
With your help and support, we can keep Fitain free for everyone and build on the platform to make it even better. Fitain is a platform that is built by the community, funded by the community, for everyone. Help us keep it that way. Lee, Jack, Lewis and Leon